Show off your integrations and tech partners in a mutually beneficial app marketplace on your site, in-app, or both.
---
Are you tired of promoting your tech partners one-by-one? Are your sales and support teams constantly fielding questions about your integrations? Worried about the sales you may have lost due to leads not knowing if you have the integration they need?
It's time to create an app marketplace for your business.
Whether you're at the beginning stages of building out your platform ecosystem, or you have hundreds of native integrations, an app marketplace (or integration marketplace) can help you save time, scale your partner promotions, and generate and convert more leads.
But where should you start?
You'll need to have a killer strategy in place. An app marketplace isn't just a page on your site. It's a sales tool.
In this article, we'll cover what an app marketplace is, how it benefits your business, 10 tips for successful design and implementation, and your options for building one.
Get ready to maximize partnerships, boost revenue, and take your business to new heights!
Note: This article is not about building the integrations themselves, but rather showcasing the tech partnerships you've already created.
Why are integration partnerships so important?
It's "the decade of partnerships," according to partnerships expert Jay McBain. A thought echoed by Scott Brinker, VP of Platform Partnerships at Hubspot, who refers to it as "the golden age of ecosystems."
This focus and attention being given to the space means partner programs are growing at an unprecedented rate – and integrations are at the forefront.
Many businesses (and possibly yours) have built integrations for your customers, but are not leveraging the partnerships with other software companies to their full potential. An app marketplace helps you take a huge step in that direction.
So what, really, is an app marketplace?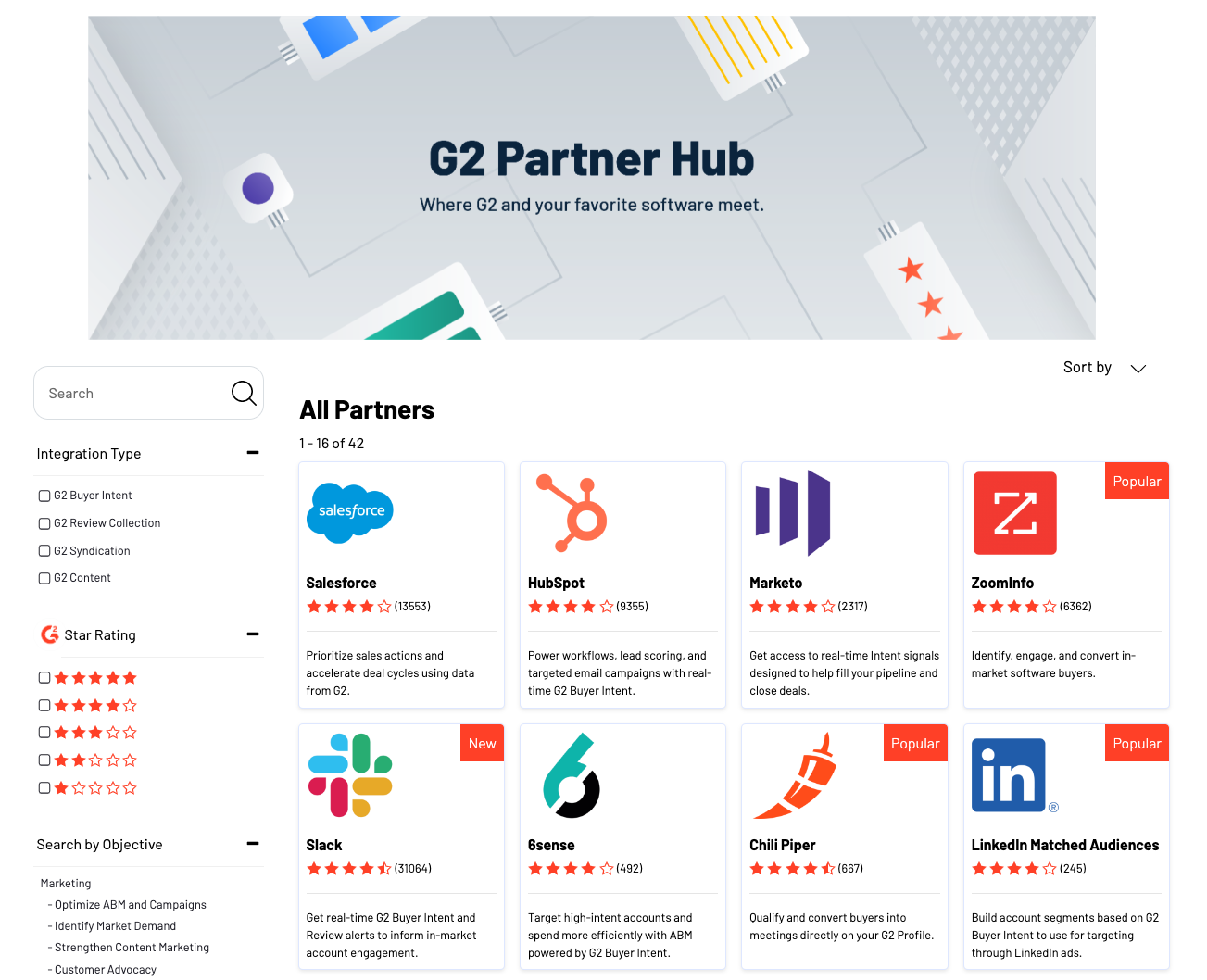 G2 Partner Hub, built by Partner Fleet
An app marketplace (or integration marketplace) is a page on your own site that lists the tools you integrate with. On it, you can scroll through integrations, find integrates based on filters or categories, and often see additional information – like what's new or popular.
From the main marketplace, you can also click into listings – separate pages containing information specific to each integration. These may include a description of how the integration works, videos, reviews, and other information relevant to the integration and company.
Prospective buyers and customers will browse or search your app marketplace for the software in their tech stack.
Your customers may connect their tools for efficiency or buy a new software based on who you already integrate with.
Prospects may have deal breakers – whether or not you integrate with their tech stack could make the difference between a sale or no sale.
App marketplaces are often publicly available on a website, in-app and only accessible to current customers, or both.
What's the benefit of an app marketplace for your business?
You send emails letting customers know about integrations. You've written blog posts and promoted them on Facebook. You've even included your integrations in nurture sequences.
Why do you still need an app marketplace?
Because, quite simply, it provides more leads, higher conversion rates, happier customers, and satisfied partners.
1. Increase your leads
Nearly ¾ of people buy software online and never talk to a sales person. And the rest do ⅔ of their research online before talking to sales.
Since buyers are doing their own research, the information on your website is crucial: It's where you have the opportunity to increase leads (or risk losing them before you know they're there).
And – guess what. They've ranked integrations as the #3 most important consideration – over price, ease-of use, and features! The difference in capturing or losing out on integration-focused leads is the difference in having an app marketplace or not.
2. Increase sales conversion rates
With the app marketplace on your website, prospects who see the integration they want are likely more willing to hop on the call with your sales team.
And those who do book calls with your sales team are further down the buyer journey – they already know you have what they need and are more likely to buy.
If you have a web-based purchase process, then an app marketplace is absolutely essential. It's like a secret weapon, allowing your prospects to get all the info they need, exactly when they need it.
We're talking higher conversion rates. Faster sales cycles. And less work for your sales team.
Plus, the app marketplace is a fantastic resource to drive more conversions during demos. Sales can show off all the different technology partners you work with and how you play nice with each of them.
3. Increase customer happiness, retention, and LTV
Your technology ecosystem – or the suite of tools you work nicely with – has some pretty sweet benefits when it comes to keeping your customers happy.
When you integrate your software with other solutions, it makes for a super smooth experience for your users. They can often complete tasks and projects using only one tool, instead of logging into multiple. And automatic data exchanges keep their data set clean.
And with their tech stack connected, users stick around longer. In fact, integration users are 58% less likely to churn.
Your app marketplace makes it easy for your customers to find and install integrations, making them happier and stick around longer.
4. Make partners happy and create reciprocity
The core of a successful partner program is reciprocity.
The more relevant leads you send to your partners, the more effort they'll put into sending leads back your way.
Having an app marketplace is a hands-off way to continuously promote your partners to leads who are looking to buy.
Bonus points if your partners can update their listings themselves – reducing tasks and back-and-forth emails to make changes.
10 tips for creating a marketplace that drives the best results
Okay, I've convinced you – it's time to build an app marketplace. But not all marketplace are the same. Design and functionality matter to the success of your partner program.
So here are 10 tips to add to a checklist when creating your app marketplace.
1. Make it easy to find
There is no point in having a marketplace if it is invisible. And I'm not talking about "publicly accessible." You need to show this thing off!
It should be in your main nav.
Remember that buyers care more about integrations than price and features. So make your integrations as prominent as your pricing and features pages.
A good example can be seen when looking at Aircall's app marketplace.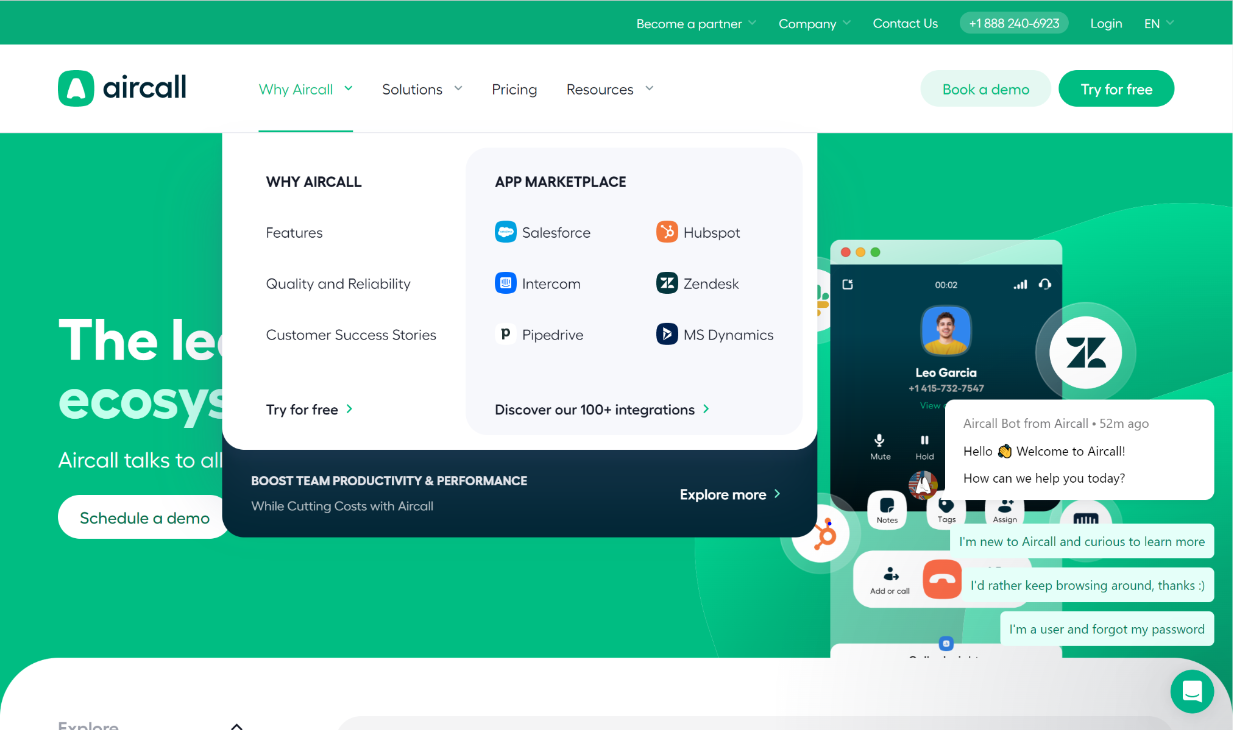 Also add a link to your marketplace in the footer and on any other relevant blogs or pages. Include it in your onboarding and nurture emails.
Your prospects should have to decide NOT to visit that page, and know exactly where it is when they DO want to.
2. Align with brand design
The main page of your app marketplace should look and feel like the other pages on your site. Design it with the same header, footer, navigation, colors, fonts, and quality.
The listing pages should be clean, and also aligned with the look and feel of your brand.
This is for two main reasons:
Trust. You've worked hard on creating trust in your brand. Create trust in your marketplace and integrations by maintaining the same brand feel.
Coherence. Quite frankly, people may get confused about where they are if your marketplace feels different from your site. We don't want them getting distracted from the main reason they're there.
3. Simple navigation
Ease of use. It's that simple.
A marketplace that is hard to navigate will cause people to look elsewhere for answers.
Here's some tips:
Make it easy to scan through all your partner options
Add partner logos so viewers can quickly find their other tools
Offer categories and filters useful to your audience
Tag or highlight new and popular integrations
Set up a featured section of popular integrations at the top
Your marketplace should be something that is enjoyable to use, and people should want to spend time checking out your partner ecosystem.
The Salesloft app marketplace is a great example of this as can be seen below:



Their marketplace has separate tiles for each of their partners, and a robust and logical taxonomy of categories and filters that make it easy to drill down on the partners that you care about the most.
What to include on integration listing pages
Let's talk about what each listing on your marketplace should include.
The goals of an integration listing page on your app marketplace are, in essence, to educate, validate, and convert.
G2s app marketplace listing for Hubspot is a good example.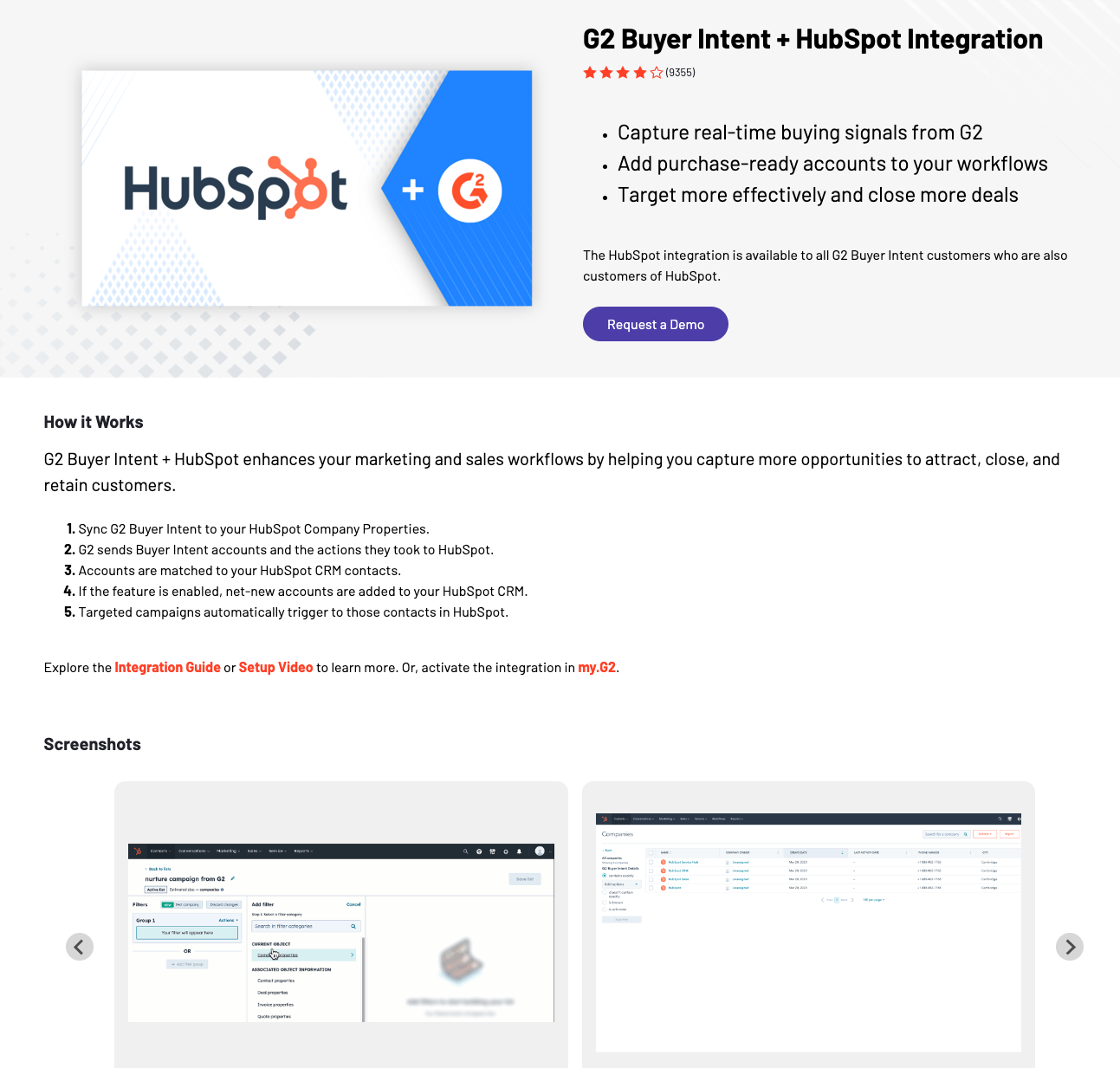 Here's how to make yours a winner too.
4. Say what the integration does – front and center
In as few words as possible, get to the point of what data the integration passes through, the results to the user, and how it benefits them.
The Hubspot listing on G2's page does this perfectly. The header includes three bullet points, giving an overview of what you get out of this integration and how it benefits you.
Under "How it works," they go into more specific detail about what data is passing through and where it's going.
And then, importantly, they move on. People aren't on this page to read a lot – they want to know what the integration does and then take the next step.
Be succinct, specific, and useful in the information about your integration.
5. In-action screenshots and GIFs
Some people are visual learners. It's easier for them to understand the integration with screenshots rather than text.
Include screenshots and/or GIFs of your integrations in-action on every listing page.
6. Social proof
Social proof helps to validate your integration. Outside opinions can lead credence to whether your integration is actually useful, how it helped, and even inspiration on how your prospects and customers can set up this integration for their business.
The more social proof, the better. Here are some options:
Integration reviews: Allow people to review the integration and show the star rating on your listing page.
Company reviews: Integrate with a tool like G2 to show star ratings and reviews of your integration partners.
Testimonials: Gather positive feedback in a sentence or two from at least three customers currently using the integration. Include the testimonials on your listings.
Case studies: Tell a bigger story about how your customer used the integration and got positive results. Although case studies can be long, you can keep these to 3-4 sentences on the listing page.
Note: At Partner Fleet we have a feature that auto populates G2 ratings into the product, giving you an easy way to display social proof with each partner you add into your marketplace.
7. A prominent path to action
Now that we've captured the reader's attention and given them integration details – they want to take the next step. Make sure this listing does just that with an action-oriented CTA.
The Hubspot / G2 integration is a great example – their main CTA offers a demo of the software. Plus, for current customers they prominently link to instructions on getting connected and set up.
Consider what you want your CTA to do functionally:
Pop-up scheduler like Calendly or Chili Piper – this is the best. Your visitors can book demos or sales meetings immediately, without leaving the marketplace.
Pop-up lead form that integrates with your existing CRM or marketing systems – good if you're looking to collect and qualify leads without leaving the page.
Click to open a new link – less ideal, since it could distract the viewer from taking an action
Check out the pop up scheduler in action: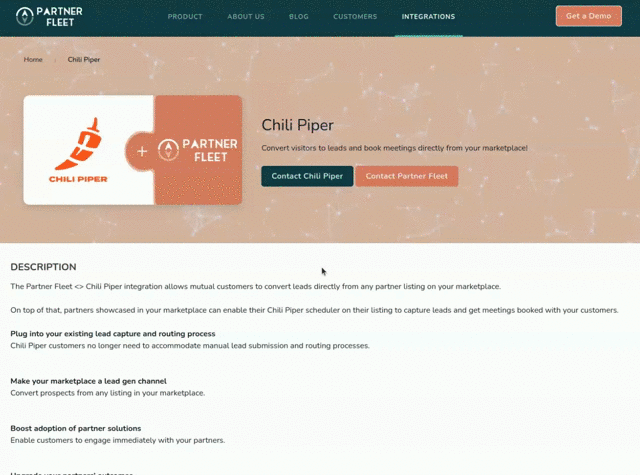 Keep in mind, the installation setup may require a deep link to the appropriate place within your application where the user can install the integration. Or, you can integrate the CTA button to your authentication and app provisioning flow.
Note: You may want to have two CTAs – one for your software and one for your partners'. That's great – just put them side-by-side.
8. Videos and graphics
Marketplaces that are simply walls of text, are unlikely to be very compelling for people that are searching through, and will likely result in them clicking out fairly quickly.
Combat this with videos, graphics, and dynamic visual components to keep people engaged with your marketplace.
Better yet if your marketplace is compatible with self-serve demo / interactive tour platforms like Walnut, Tourial, and Navattic.
A good example of this can be found in Appcues listing inside of HubSpot's app marketplace: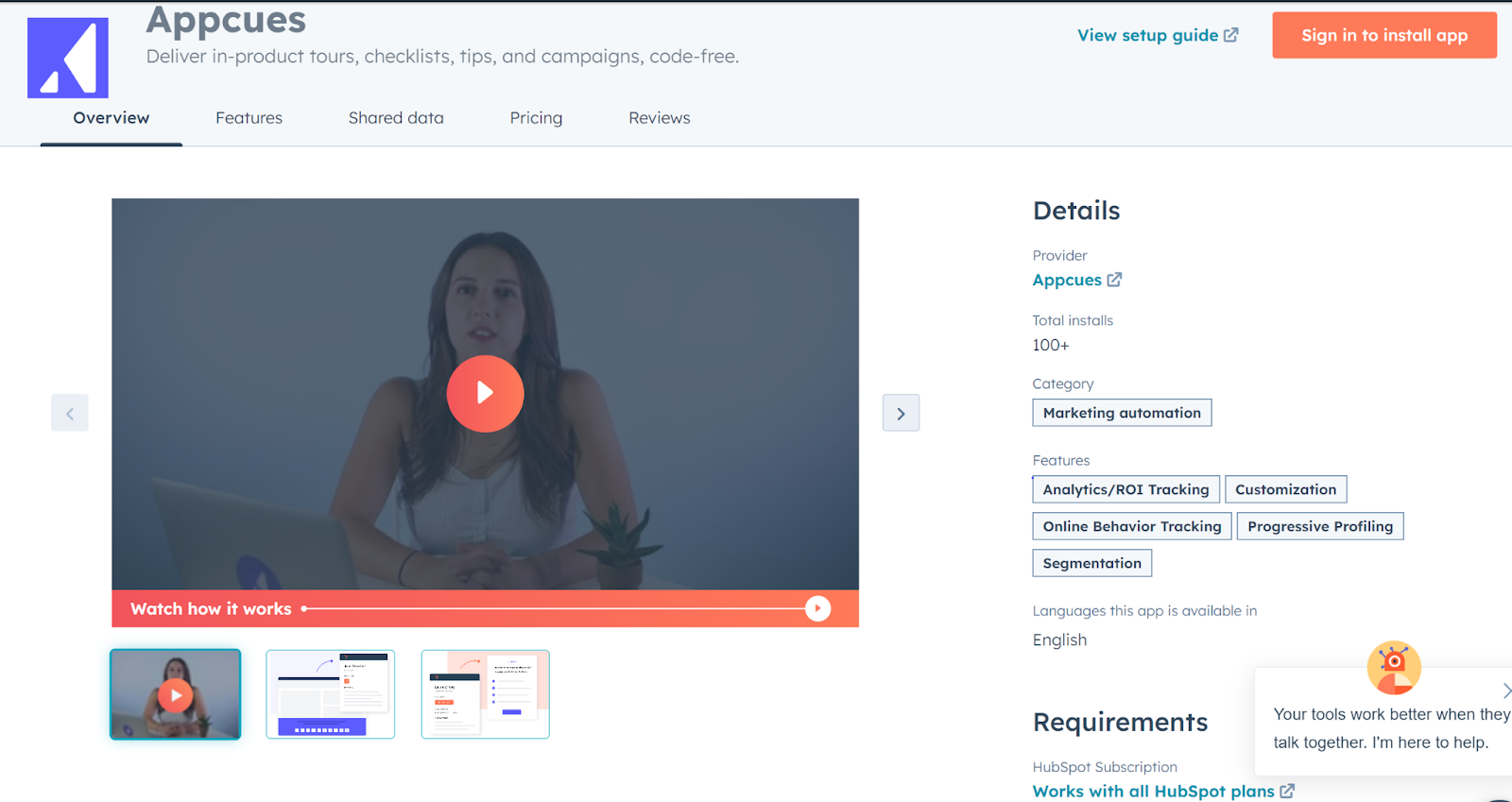 The first thing you hit is a video explaining the integration and how it works.
9. Social media shareable
As we've mentioned, marketplaces can get you and your partners leads if done properly.
Having listing pages that can be easily shared via social channels make it easy for partnership teams from both companies to promote the integration more broadly and drum up additional demand.
A good example of this can be seen on our own marketplace listing, for our partners at Chilli Piper.
When sharing the URL for the listing on social channels, it produces an optimized image that looks like this: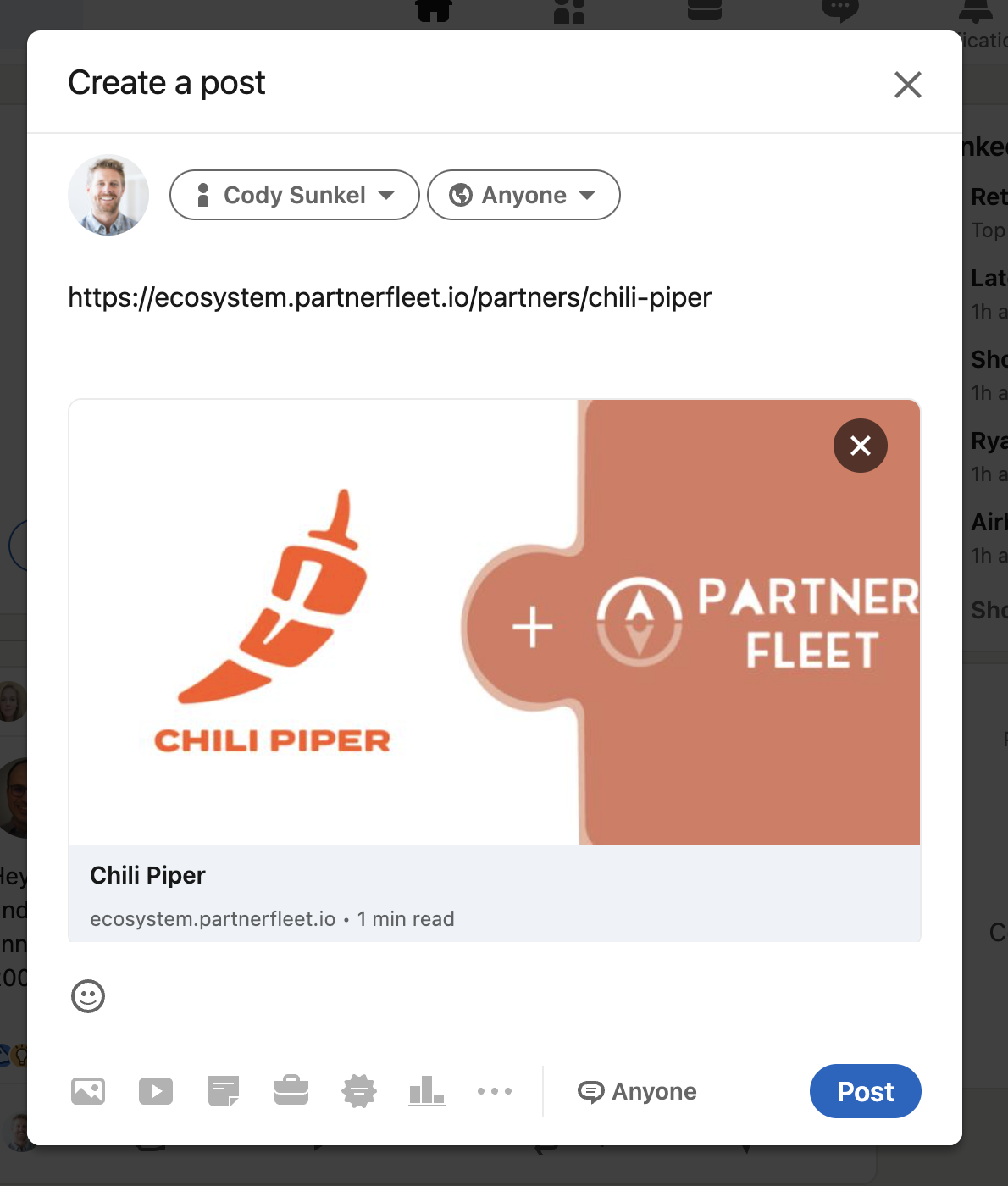 10. SEO Optimized
The final strategy on creating a great partner marketplace is to create listings that are optimized for SEO.
Again, demand generation is one of the key benefits of a marketplace and therefore optimizing listing for things such as long tail keywords, page speed and URL structure will result in more traffic for your marketplace through organic search.
SEO optimization is an easy lever to drive demand and should therefore be prioritized when building a marketplace.
Bonus: Connect your marketplace with your existing tech stack
Why not drink your own cool-aid? Integrate your marketplace seamlessly into the tools you use as a business.
Integrate your in-app marketplaces directly into your business intelligence tool of choice, so you can track the tools that are "most downloaded".
Leads generated should flow into your CRM or marketing system to align with existing lead capture processes and lead routing. (This can also be accomplished by integrating your scheduling system.)
This information will be really important when thinking through go-to-market strategies with tech partners, as those partners that are most popular are more than likely the ones you should double down on, and do co-marketing with.
How do I build a marketplace?
By now you have the strategies and best practices down.
But how do you actually build your app marketplace?
It may come as no surprise but there is design and development needed in order to create a marketplace.
Most businesses have three main options to create an optimized partner marketplace.
1. In-house custom build
Average time commitment: Starts at 6-12 months.
Resources needed: Developers, designers, marketers, partnerships team.
The first strategy you can take in building a marketplace is to have your developers build a custom one in house.
Positives of an in-house custom build are that your developers are in control of the process – your company has direct control over how the marketplace looks and behaves.
Downsides are that you have to take developer time off from your core project or even building new integrations. Or you may need to hire new employees.
Additionally, an optimized marketplace needs constant updating and improving. Keep in mind you'll need ongoing developer resources to help in this process.
2. In-house build with CMS
Average time commitment: 3-6 months
Resources needed: Web developers, designers, marketers, partnerships team.
Instead of building your marketplace from scratch, you could build it using Wordpress, Webflow, or whichever content management system (CMS) you currently use. This is often the first thought businesses consider when deciding to build an app marketplace.
Positives of an in-house CMS build is that it will take less time than a custom build and you still have complete control over the design of your marketplace.
Downsides of a CMS build are not as obvious until you get started. First, there can be numerous plugins needed which each cost money and need security review and a process of approval. And any updates after it's built requires development time, as well.
Additionally, CMS marketplaces are generally somewhat static, without the ability to embed pop-up CTAs or include integrated review sources. And every time your partner wants an update, you have to update their listing page yourself.
This option can offer a decent front-end experience to the customer, but will require plenty of manual tasks on the back-end to keep up-to-date.
3. Purchase a marketplace technology platform
Average time commitment: Several weeks
Resources needed: Partnerships team (and sometimes marketers)
If you don't want to build at all – you don't have to! You can buy a turnkey marketplace technology platform that includes the majority of the key features listed in our best practices above.
Even though you bought it, your app marketplace will look like it was built in-house.
The benefits of buying software to fill this need are numerous.
Firstly, there is no need to commit internal resources to build out the marketplace offering. As mentioned above, with either of the "homegrown" solutions there is a need to assign developers to get it up and running. With a marketplace software solution the creation can be handled by your partnership teams and can be spun up almost instantly.
Also, this marketplace can be finished and available on your site in weeks. That means you're not waiting 3-6 months to capture more leads and conversions from your integration partners – you can start booking calls and making sales from your marketplace straight away.
Does it sound like we're fans of this option? That's because it's what we do. You can check our partner marketplace solution here.
The value of a partner portal
There's one more major factor to consider when building an app marketplace: The ongoing work associated with managing the listings. When you build in-house, you're on the hook to create and maintain all your integration listings.
That means updating a logo for your partner. Or a tagline. Or some copy if the integration changes. Or some copy if a new person joins their partnership or marketing team.
These tasks may seem small if you have 10 integrations. But they'll become unmanageable as your integration ecosystem grows to 100s of integrations.
Marketplace technology platforms have a partner portal built in for every listing. That means your partners can make the updates themselves and all you have to do is approve them.
The ongoing time savings and value add may be alone worth choosing a marketplace technology company.
Start building your optimized app marketplace today
By following these tips and taking advantage of the strategies and techniques outlined in this article, you can create a thriving partner marketplace that drives growth and fosters strong relationships with your integration partners.
For those that are reading this and feel overwhelmed still, you should check out Partner Fleet, where you can get an out-of-the-box partner marketplace solution.
Sign up for our monthly newsletter
Get notified of new blog posts and Partner Fleet updates in your inbox.