You've created your app marketplace – now let's make it work for you.
---
An app marketplace is a powerful tool that offers numerous benefits to your business. Perhaps even more powerful than you thought.
Why? Integrations have largely been ranked as one of the most important factors people consider when purchasing software. Having an app marketplace is a smart move to convert more prospects (so well done, you).
Consider what it takes to build your app marketplace:
Full-time partnership leaders negotiating with other SaaS partners
Hundreds (thousands?) of developer hours building integrations
Months of marketer, designer, and web dev time creating the marketplace itself (unless you got set up quickly with a turnkey marketplace like Partner Fleet 😉).
All the time and resources that went into building your marketplace would be a waste if no one saw it.
Promoting your app marketplace shouldn't be an afterthought. It's an important and highly valuable part of your partner strategy – your company's strategy.
Want to do it right? We've got you covered with ten promotional strategies to get your app marketplace the attention it deserves.
Jump ahead to the app marketplace promo strategies:
Want more app marketplace promo proof to show your boss?
Consider these research results:
MarTech prospects said integrations are more important than price, operating cost, breadth or sophistication of features, and even ease of use. Source: CDP Institute's State of Customer Data.
According to Gartner 2023 Buyer Trends, integration is the #3 most important criteria for software buyers (after company trust and flexibility).
Customers with 5 integrations are willing to pay 20% more for the same core product. Source: Profitwell.
Tech partners result in faster deal cycles. Okta reported getting 40% faster deal cycles, from early stage to close/won.
Doesn't my app marketplace promote itself?
If you have built out a beautiful app marketplace, you might be thinking that it should promote itself.
It is filled with colorful logos and you added it to your website's nav… Customers will find it themselves right?
There are three main reasons to invest additional effort and money in marketing your app marketplace to current and prospective customers.
1. You'll attract more new customers
Your buyers prioritize integration with their current tech stack when making a purchase decision (see the stat above). That means having an integration could likely result in a won deal.
But what if you have the integration and your prospect doesn't know? They can't find it? They may move on before even reaching out or submitting contact information.
That would be a bummer.
The fact is, having an app marketplace allows prospects to check the integration they want off their list and move forward in the buying process.
Also, there are prospects looking for your solution who may Google something like "X type of tool that integrates with Salesforce."
If your app marketplace is a search result, that's a new prospect. They found you with the integration first – capture their information and you've got a new lead.
Your app marketplace generates new prospects, new leads, and new revenue.
2. Your current customers will stick around longer
New prospects are just the beginning. Having an easy-to-find app marketplace can also benefit your current customers, and reduce churn.
Would you like to reduce churn by 30%? How about 60-80%? Freshworks found that customers with 1 integration were in the former bucket and 5 or more integrations were in the latter bucket.
That makes sense: Customers save time with automatic bidirectional data flow, and the more tools connected, the more of a pain it would be to switch back to a manual data process.
This benefit can only be realized if your customers know about your integrations.
3. Your partners will be happier
One of the central pillars of successful partnerships is reciprocity – where both you and your partner benefits from the partnership.
In order for this to be possible, you need to promote your partner ecosystem broadly.
Without your customers or prospective customers knowing about your partners, the likelihood of you sourcing new business for them drops dramatically. Having a well promoted app marketplace, can provide an easy way for you to get leads to your partners. And happy partners send more leads your way – it's a circular benefit effect.
Another great benefit of a partner marketplace is that you can promote the marketplace itself, driving interest and leads to your partners. Without needing to run co-marketing campaigns for each partner, you can reduce the scope of your partner marketing program without compromising results (hello, efficiency).
This makes your partner marketing MUCH more scalable. Plus, it reduces opportunity cost for your marketing team.
Okay, enough distractions. Let's dive into the 10 strategies you can use to promote your app marketplace.
10 ways to promote your partner app marketplace
1. Email marketing
One of the fastest and easiest ways to promote your app marketplace to your audience is in your emails.
Create a "Partnership Newsletter" which showcases new and popular integration partners, with appropriate links out to your app marketplace.
Like with any email strategy, it's important to get your content right. Choose segments of your audience most likely to be interested in the integrations and avoid sending out what ends up being a bunch of sales emails pushing your partners' software.
Instead tell a story: How have others used these integrations successfully? What's the time commitment to get set up? Where can your customers make their workflows more efficient, saving time on process?
Boring sales emails will result in customers unsubscribing from your newsletter – so keep it fun and useful and you'll see a lot more traffic going to your app marketplace (and more impact).
2. Social media marketing
60% of people worldwide spend an average of 2.5 hours on social media a day. 2 ½ hours A DAY!
That means it's very likely your customers are on social media. A lot.
So catch them there! Add your app marketplace to the social media marketing you're already doing.
There are a couple of key ways you can do this:
Post about newly launched integrations with compelling images and copy on your social channels.
Regularly post reminders about your most popular integrations throughout the year (not just new ones).
Involve your integration partners. Send them copy and images so they can easily post on their channels, too. Plus, ask them to share your social posts with their audience.
All these promotions should include a link to your app marketplace. Test the link first, though. When done properly, your integration page will auto-populate on social channels with an attractive preview card that looks something like this: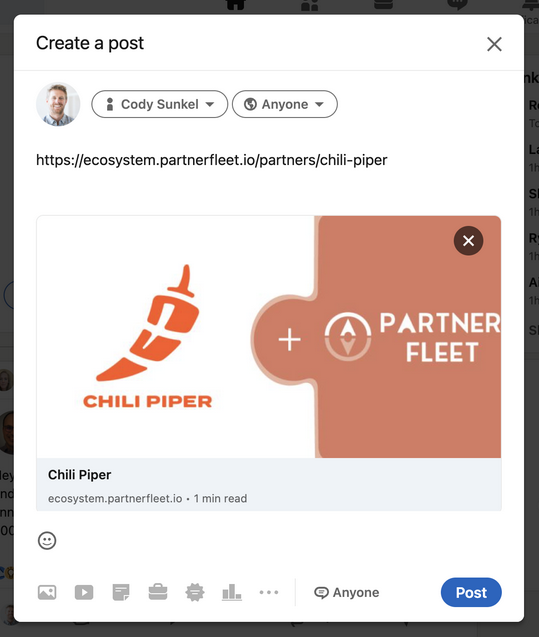 When you use a tool like Partner Fleet to create your marketplace, you can easily configure your preview to look how you want it to.
3. In-app notifications
What better time to tell customers about a new integration than when they're already signed into your platform? In-app notifications also reach your entire customer base – not just the ones opted into emails or who follow you on social media.
Get timing and messaging on in-app notifications right, though. Overly used, poorly timed, or useless notifications are worse than none at all.
Here are a couple of tips on creating in-app notifications about your integrations that will actually get read:
Test your messaging on a smaller segment of users before sending to everyone
Lean in on notifying new users about integrations popular or relevant to them
Keep your copy short, and allow users to exit the notification easily
Always stay benefit-focused. How will this integration help them?
In-app notifications are a great way to highlight your integrations and make more customers aware of them. In addition to links that enable the integration, link to your app marketplace so your customers can get more information about how they work and explore your other integrations.
4. Co-marketing campaigns
Co-marketing is the bread and butter of integrations. Leverage the partnership as much as possible so that both of you benefit from building the integration in the first place.
The first step is to ensure the integration is listed on the other company's marketplace. It's your job to double check both listings for accuracy. At the very least, make sure they have:
A description of the integration, what it does, and how it's set up
Screenshots and other images to capture attention and give additional value
Social proof – start sharing reviews and testimonials as soon as you have them
As a partnership professional, you know your co-marketing so we won't go into too much detail. But here's a quick checklist of ways you may want to promote your app marketplace to your partners' customers (and vice versa):
Co-webinars
Shared white papers
Exchanged blog posts
Social media posts and shares
Co-presentations at events
YouTube explainer videos
Exchanged sales emails
As always, make sure you include appropriate calls to action and link back to your partner's page on your app marketplace wherever appropriate.
5. Paid ads
If you are building a robust app marketplace and have several notable names included, promote them through paid ads.
Drive traffic to your app marketplace with ads that highlight a key integration and target the customers that currently use the other product.
Highlight how customers use "Product X" in conjunction with your product. You'll have better ad copy, more interest, and overall better results.
A good call to action here is a link to your app marketplace that shows off how that integration works.
6. Website banners and email signatures
Use available real estate to promote your app marketplace far and wide.
Two easy things to leverage are website banners and employee email signatures.
If you have a regular cadence of promotion using a banner on your website – include your app marketplace in the lineup.
You could promote your app marketplace a few times a year, at times when people are traditionally making new purchases. Or, it could be a great fallback for times when you're not running another promotion.
Additionally, having your entire employee base add the app marketplace in their email signatures is an easy way to get it in front of your customer base.
7. Use account-mapping tools
Tools like Crossbeam and Reveal allow you to see a list of mutual customers that exist between you and your partners (this is called account-mapping).
These mutual customers might not know that the integration between your tools exists – so this is a great audience to target promotions to.
Using account-mapping tools, you can automatically pull mutual customer data into your CRM and create manual or automatic marketing campaigns to promote the integration. (Free versions are available too – you simply need to download your data then upload to your CRM or marketing tool.)
In your emails or other marketing campaigns, direct prospects to your app marketplace as a main CTA or offer the link for additional information.
8. Influencer marketing
Influencers, by nature, have an audience. And their audience trusts them – a lot.
Pay to play influencers can be expensive, but niche influencers can help you get in front of your key prospects for a lot less. You could also use an affiliate link model (i.e. PartnerStack) so you only pay influencers based on performance.
For example if you are in the partner tech space like us, you might want to partner with thought leaders like Jay McBain and Allan Adler to help push the news of an integration to their shared partner audiences.
This same technique can be replicated across industries, using the same methodology of selecting influencers who have large followings in the audiences that the integration appeals to.
Get your influencers on board, too. Teach them about the benefits and give them appropriate messaging – it'll help them sell the integration better.
In the posts or videos your influencer creates, ensure you include hyperlinks…you guessed it to your app marketplace.
9. Case studies
Your direct marketing team probably creates a lot of customer case studies, to show the impact your tool is making to their business.
In a similar way, you should create integration partner case studies.
A good case study should cover specific integrations, and show how the combined power of two tools has created a positive impact for a joint customer.
The byproduct of these widely promoted case studies is increased interest in additional integrations you offer.
This increased interest will direct their attention to the place all your integrations are listed in: your app marketplace.
10. Search engine optimization
The final item on our list is a tactic you can use to again make use of the integration logos you have in your app marketplace.
One of the things you can do to promote these integrations to a wider audience (and as a byproduct, promote the app marketplace itself) is to create blog posts that jump on searched terms.
For example if you have an integration with a tool like PartnerStack (you should check out our Partnerstack Integration), you might create a blog entitled "Top 10 Partnerstack Integrations" and list yourself at the top alongside some of the other integrations that the platform offers.
As always, when creating this blog post, the call to action would take readers straight to the PartnerStack listing inside of your marketplace.
Capitalize on the brand names of listings in your app marketplace, and direct people there through the use of SEO optimized articles.
Now that you have traffic – make your app marketplace a conversion tool
You're marketing your app marketplace. You're directing a ton of traffic to it. Your prospects are getting educated.
Now what?
Make it easy for them to take the next step.
Remember that someone on an integration page is in the education/consideration process of their buyer journey – they're looking for more information about whether yours is the right tool for them.
When this integration convinces them, your CTA needs to be front and center. Choose a call to action that jives with the buyer journey and track the results. That way, you (and your boss) can see in real time the results from your hard work.
If you promote it, they will come
Building an app marketplace is a smart move for your business, but it's not enough to just build it and hope that customers will come.
Promoting your app marketplace is critical to realizing its full potential as a valuable part of your business and ecosystem business strategy.
By adopting these ten powerful strategies, you can ensure that your marketplace receives the attention it deserves and delivers real value to your customers and partners.
From email marketing to co-marketing campaigns, there are a variety of tactics to choose from, so pick the ones that work best for your business and get started today.
With effective promotion, your app marketplace can become a significant driver of revenue and a key differentiator for your business in the market.
If you are looking to create optimized app marketplaces that you are proud to promote to your customers and prospects, use Partner Fleet. We create elegant, customized, fully optimized app marketplaces that are sure to surprise and delight.
Sign up for our monthly newsletter
Get notified of new blog posts and Partner Fleet updates in your inbox.